City of Dublin ETB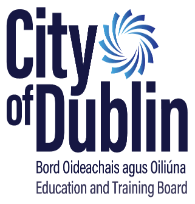 City of Dublin ETB was established on 1st July 2013 under the Education and Training Boards Act, 2013. We are the state education and training authority for Dublin city with over 3,000 staff and 47,000 (full and part time) learners. We operate 26 schools and colleges including one Community National School, two Community Hospital Schools, 11 Post Primary Schools and 12 Colleges of Further Education.
City of Dublin ETB also manages two Training Centres, nine Youthreach Centres and an Adult Education Service operating in five separate areas across the city. We provide an education service in seven Prisons and fund a broad range of Community Training Centres and Local Training Initiatives. City of Dublin ETB is the largest provider of QQI awards in Further Education and Training (FET) in Ireland.
We are also responsible for SUSI, the national awarding authority for student grants in Ireland. City of Dublin ETB supports the provision, coordination, administration and assessment of Youth Services in Dublin city and is the lead partner in Music Generation Dublin City.
This provision is supported by a range of services including a psychological service, a curriculum development unit, a buildings maintenance unit and the Head Office administrative staff in Ballsbridge.